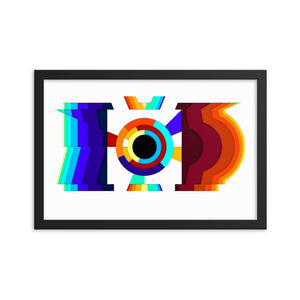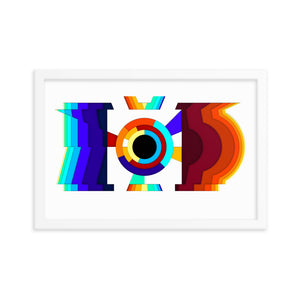 cacophony of symmetry and asymmetry
It was at first sight, an image I saw on Arthur's business card. I was immediately hooked. I kept that card on my desk and thought about it and how it made me feel and eventually considered framing it.
The first time I saw the image in an exhibit, it was my husband who pointed out something that I had originally missed. The composition had an architectural element as well as a modern, semi-abstraction style. Or rather psychedelic, mostly through color and the animated vibe. I was at once thinking about it from a new angle. Sorry the pun! The cacophony of symmetry and asymmetry instantly entered my mind. Again, I was contemplating the work.
Then, last month I acquired the piece and brought it home. I have studied it. What I had first saw was simply an eye of the world effect; I now see so many features. A movement of inward and outward. A balance, but then not. I counted the lines. Number 7 and 9 and wondered about if that was random or thoughtful. Honestly, I prefer to answer that on my own, which I believe might also be the artist's intent. Colorful, introspective, and well, just happiness. I love that it lives in my groovy office at home. Kind of a late 60s early 70s vibes here, which helps me stay, somewhat sane.